Content Strategy and Writing Services
We are pleased to offer the entire content marketing service – content strategy/planning, and content writing services.
Content Planning and Strategy
It is a fact that Google loves content. The more your site provides useful information, the higher your chances of ranking in Google.
Through the years, ranking factors have continued to change, but one thing remains constant – content. After all, Google is about providing quality information to internet users.
But what shall you write about? How long should the content be? What topics are trending and going viral in terms of social engagement and backlinks? What are your competitors' top content and keywords that they rank for?
With our content planning/strategy, there is no guessing game! Why? Because we have a detailed content planning and strategy system that's the best there is.
Content Gap
We check the most viral content, your competitors' content and keywords, and find any content gap. From the content gap, we find your top rivals for a particular topic and determine the recommended length and related keywords. That way, your content planning is based on guided information.
After the content strategy, you next need content that is optimized for SEO.
Content Writing
Having useful, engaging content is crucial to start getting organic leads. We have a team of SEO writers who know what it takes to make an article perform. Our dictum is "write for the users, optimize for search engines."
This is the key to our successful content writing services, such as these: (click the images for more details)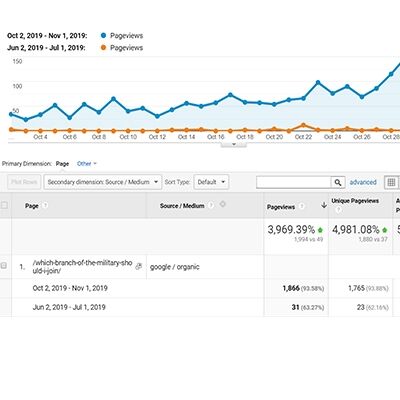 From 31 to 1866 pageviews after 4 months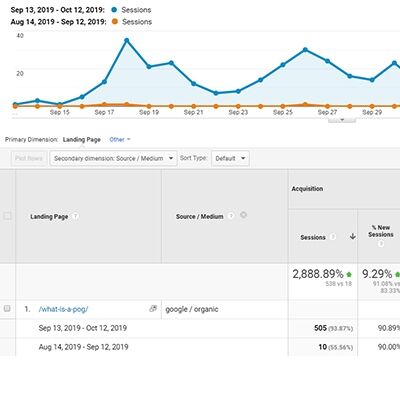 From 10 to 505 page views after one month
5 Reasons Your Site Needs Content:
1. Leads internet users to your site.
With proper keyword and content research done by us, we can post articles on your site that answers readers' searches for solutions that they seek.
2. Creates awareness and a need for your products or service.
A reader may not realize that they need your product or service until you are able to explain the value it shall provide to them.
3. It shows E.A.T – Expertise, Authority, Trust. When your site has a lot of information about a particular topic, it establishes you as an expert and authority on that field, and readers will start trusting you.
4. Google favors constantly updated websites via new content.
When you regularly publish optimized content, Google will visit your site every time you publish content (through your sitemap submission which we will perform as well). The more Google visits your site, the faster your pages get indexed.
5. Other sites may link back to your webpages.
When you offer valuable content, other websites may link back to your content, further creating traffic to your site and creating backlinks. Backlinks also help as another Google ranking factor.
Leave Your Content Strategy and Content Writing Services to Us
Leave it to expert content strategists and writers as we have proven over the years. With masterfully done content, you get organic traffic and ranking. Contact us today!